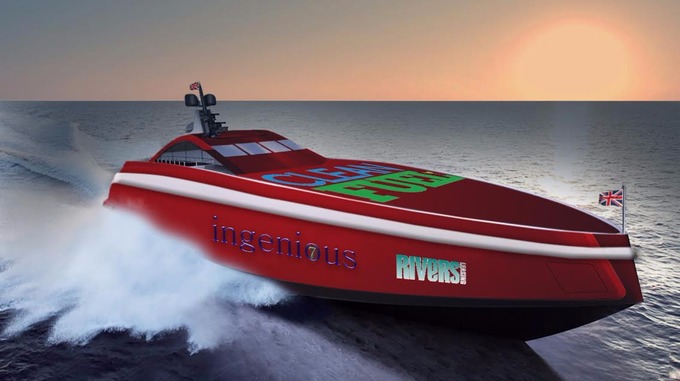 There was a little flurry of Team Britannia press activity over the weekend, including Alan Priddy's appearance on BBC South Today. It's all down to the fact that we have at long last pushed that magical green button to start building our round the world superboat. It's been a long time coming – over seven years since the first drawing was produced, and for Alan Priddy, Jan Falkowski and me, the dream itself dating back to the end of the last millennium. Since then we have had numerous false dawns, including a first boat which came close to completion before an arson attack saw it cut up for scrap.
But this time there's nothing to hold us back. The funding is in place, and once the aluminium has been laser cut, the boatyard on Hayling Island will assemble it. All being well, we should have a boat in the water by the middle to end of August, giving us enough time to run sea trials before transferring her to Gibraltar ready to set off on the circumnavigation record attempt on the 23rd October.
It has also been confirmed that we will have support from The Royal Foundation of the Duke and Duchess of Cambridge and Prince Harry's Endeavour Fund. On each of the seven legs of the voyage around the world, we will have up to four crew members who are wounded ex-servicemen and women. An extensive selection process will take place over the next two to three months, overseen by former army Captain and Team Britannia crew member Stuart Croxford.
A lot has to happen between now and our departure from Gibraltar on the world record attempt – I'll continue to update with further news as it's released.
Tags: Alan Priddy, Clive Tully, powerboat, round the world, Team Britannia